What is Healthy Beginnings for HNEKids?
Healthy Beginnings for HNEKids is a partnership between Hunter New England Child and Family Health Services, and Population Health. It is a program that delivers text messages to families during their child's early years. The messages focus on feeding and child development, providing general information, and advice relevant to the age and stage of the child.* The messages also include web links to more information, or contact details for further support or referral services.
This program was developed by a team of health professionals in partnership with external organisations and local families. 
The goal of this initiative is to improve outcomes for children and support their parents/carers and families along the way.
*If you have further questions about caring for your baby, or if you have specific health concerns during their early years, then please contact your local Child & Family Health Nursing Service (CFHN) or your healthcare provider.
What does Healthy Beginnings for HNEKids include?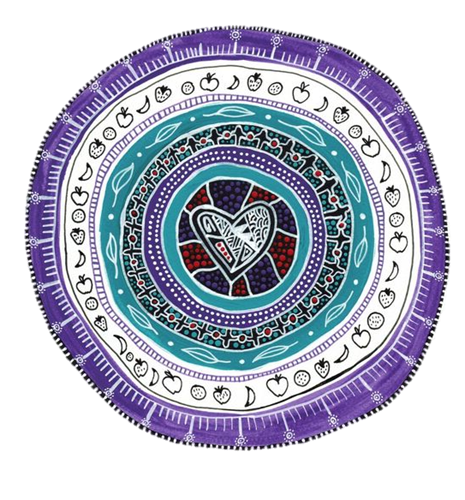 Lara Went from Yukul Art created this artwork for Good for Kids, Good for Life. The title of this artwork is called 'The heart of a child'.
The heart in the middle represents health, love and support surrounding everyone. Coming from the heart are lines which are positive energy radiating into the children which are the figures around the heart holding hands. The leaves represent physical activity and the fruit represents healthy eating. The circles that almost look like stars represent community groups and people coming together in support, positive guidance, love and good energy.
You will see this artwork featured throughout the HB4HNEKids communication.