SWAP IT Program for Early Childhood Education and Care
The SWAP IT program aims to support services and families to pack healthier lunchboxes by providing  ideas for  healthy food choices to "swap in" to the lunchbox.
Developed by Dietitians, the SWAP IT  food recommendations are based on the latest government nutrition guidelines for childcare- aged children. The Swap it choices help parents to identify foods of low nutritional value that could be "Swapped- out" while also providing practical easy ideas for healthier alternatives.
For more information on how we chose our healthier options click here.
SWAP IT Choices
"Swap IT Choices" is what we call our lists of  healthy food and drink suggestions for the lunchbox.
Families- Just click on the lists below for healthy options including product names and brands:
Childcare Services – why not consider using our SWAP IT Choices lists as part of your service Nutrition Guidelines or Policy? This may assist with meeting section 2.1.3 of the National Quality Framework.
Our Best Lunchbox Packing Tips
Short on time? Out of Ideas? Have a fussy eater? Click on the links below for tips and ideas tailored to you.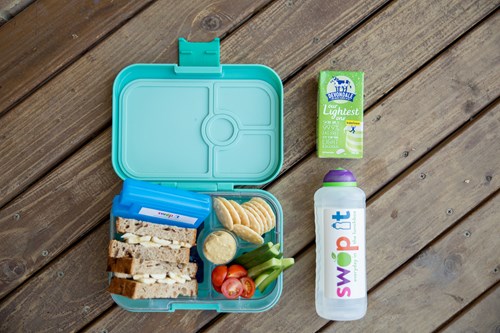 Whilst brands may be depicted in these images and videos, Good For Kids has no affiliation and do not endorse any specific food brand. Product availability and price were current as of April 2016. We do not warrant that the information we provide will meet individual health, nutritional or medical requirements, or individual school policy.