SWAP FROM these types
of
SOMETIMES

FOODS
Roll-ups 
Fruit sticks 
Breakfast based bars  (E.g. LCMs, Nutri-grain Bars, Milo Bars) 
Muesli bars 
Chocolate bars
Sweet biscuits  (e.g. Tiny Teddies,
Gingerbread babies, Oreo Wafer Sticks) 
Cakes/pastries
Dairy desserts  (e.g. Yogo,
Chocolate Snack Packs) 
SWAP TO these types of
EVERYDAY

foods
Pre-packaged options
Fresh fruit in season 
Dried fruit (small serve and occasionally). (e.g. Sunbeam, Sweet Vine, Micro Minis, Gobble Sunsweet prunes, Sun Valley, Angas Park, Woolworths or Coles). 
Tinned fruit in natural juice (eg: Goulburn valley, SPC, Sweet valley, Woolworths or Coles) 
Fruit puree pouch (eg: Golden Circle, SPC) 
Dried fruit boxes (small serve and occasionally). (Sunbeam, Sweet Vine, Micro Minis, Gobble Sunsweet prunes, Angas Park, Woolworths or Coles). 
Pre-packaged cereal (Uncle Tobys Fruity Bites – Wildberry Flavour)
Fruit yoghurt (Yoplait, Orchard fruits, Brooklea, Danone, CalciYum) 
Plain yoghurt (Calciyum, Yoplait, Tamar Valley, Dairy Cream)  
Reduced fat yogurt (Vaalia, Ski D'Lite,  Yoplait, Danone, Chobani, Yummia, Coles, Petite-Miam,Tamar Valley 6 pack) 
Reduced fat custard packs (eg: Foster Clark, Pauls, Woolworths banana custard)
Some preparation required
Fruit salad 
Decant large packs of dried fruit/tinned fruit in natural juice/fruit puree into small containers 
High fibre breakfast cereals decanted to small serves (e.g. Sanitarium Weet-bix Bites, Uncle Toby's Cheerios, Weeties, Shredded wheat) 
Pumpkin seeds 
Sunflower seeds 
Raw nuts 
Fruit buns (Woolworths, Coles or Bakers Delight) 
Fruit bread (Raisin Toast)
Pikelets (Golden, Coles or Woolworths) 
Raisin bread with light cream cheese spread 
Plain, fruit or vegetable scones 
Fruit spice English Muffins 
Large tubs of reduced fat plain/fruit yoghurt 
Reduced fat yoghurt with muesli. 
Reduced fat yoghurt with fresh/frozen fruit. 
Light/reduced fat custard (Pauls Light vanilla custard – 600g tub) 
Homemade
Homemade fruit puree using a food processor/stick blender then portioned into small containers and frozen (a great use for fruit that is past it's prime)
Pikelets (plain, vegetable or fruit) 
Whole-wheat scones (plain, cheesy, fruit or vegetable).  
Low fat custard 
See some Recipes!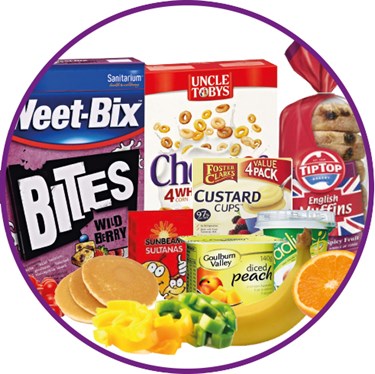 Would you like to share your lunchbox photos? Click on the "Send Photos" button below. By sending us your lunchbox photos you are agreeing for these photos to be placed on our website. Your details will not be displayed with the photo.

Whilst brands may be depicted in these images and videos, Good For Kids has no affiliation and do not endorse any specific food brand. Product availability and price were current as of April 2016. We do not warrant that the information we provide will meet individual health, nutritional or medical requirements, or individual school policy.