SWAP FROM these types
of
SOMETIMES

FOODS
Chips / Crisps
Pretzels
Flavoured biscuits / crackers (e.g. Shapes)
Coloured popcorn
Noodle snack
Crackers and cheese/sweet dip
(e.g. Le Snak or Dunkaroo)
SWAP TO these types of
EVERYDAY

foods
Pre-packaged options
Popcorn (Sunbites, Coolpak, Coles, Snackers, Macro, Chazoos, Cobs)
Flavoured rice crackers (Sakata, Peckish thins, Damora, Sun rice, Wice)
Flavoured rice wheels (Damora, Healtheries)
Wholegrain brown rice mini bites (Sun Rice)
Flavoured faa-va beans (The Happy Snack Company)
Dry Roasted Chickpeas ( The Happy Snack Company, Be Natural – Moroccan spice or sweet chilli)
Baked bean snap pot
Mainland On The Go Tasty Light Cheese and Crackers (4 x 30g pack) 
Sirena or John West Tuna & Cracker snack packs 
Cheese alternatives: 
Lite/fat reduced: Bega Cheese Slices, Country Light tasty,  Lite babybell, The laughing cow Lite cheese wedges, Philadelphia Light Cream Cheese Snack tubs (4 x 40g) 
Full fat: Cowbelle cheese stringers, The laughing cow cheese wedges, Bega cheese stringers, Dairylea cheese pods 
Hummus dip mini tub (Coles, Chris's, Obela) 
Cracker alternatives: 
Crispbreads (Premium snack packs) 
Some preparation required
Microwave plain popcorn (Greens Lite popping corn)
Family pack flavoured/plain rice crackers (Damora, Sakata, Peckish thins, Sun Rice, supermarket brands)
Flavoured Corn thins or rice cakes (Real Foods, Sun Rice, Coles)
Decant bulk buy baked bean packs (Heinz, SPC)
Boiled egg
Carrot sticks (or other vege)  with hummus (Black swan, Obela, Yumi, Willow Farm, Chris's Dips). 
Rice crackers with sliced reduced fat cheese. 
Plain crackers with reduced fat cheese and vegemite. 
Cracker alternatives: 
Crispbreads: (Premium original crispbread, Cruskits, Ryvita) 
Plain crackers (SAOs, saladas, vita wheat)
Homemade
Home-popped pop-corn (Rivianna). Put ¼ cup of kernals in a brown paper bag and fold the top over to seal. Place in the microwave and cook until there is about a 2 second gap between pops. Put the bag straight in the lunchbox!
Homemade roasted chick peas: rinse and drain a can of chick peas, place on oven tray with a sprinkle of Moroccan spices and roast for 45mins – voila!
Vegie sticks and homemade hommus  
Recipe: drain 1 x 400g tin chick peas and reserve the liquid. Combine chick peas with 1 tbsp tahini, 1 tbsp lemon juice, 1 tbsp olive oil, 2 cloves of garlic and 2 tbsp of the reserved liquid. Blend until smooth. 
Rice crackers with homemade vegetable dip
Recipe: grate ½ a cucumber and mix with 1 cup reduced fat natural/Greek yoghurt. Add dill, lemon juice and season to taste.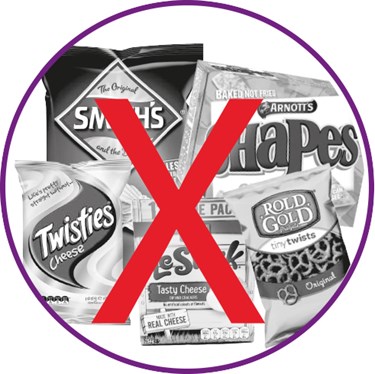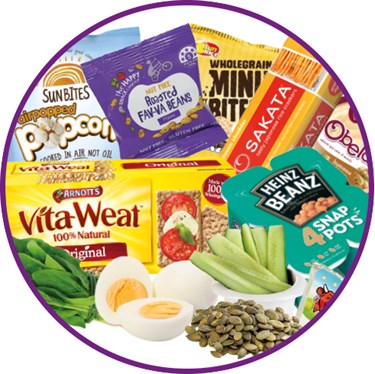 Would you like to share your lunchbox photos? Click on the "Send Photos" button below. By sending us your lunchbox photos you are agreeing for these photos to be placed on our website. Your details will not be displayed with the photo.

Whilst brands may be depicted in these images and videos, Good For Kids has no affiliation and do not endorse any specific food brand. Product availability and price were current as of April 2016. We do not warrant that the information we provide will meet individual health, nutritional or medical requirements, or individual school policy.