Are you looking for a recipe to use in the canteen? For recipes that meet the NSW School Canteen Guidelines, visit this page.
The following recipes have been assessed against Fresh Tastes @ School. Work is underway to align these recipes with the new strategy – WATCH THIS SPACE!
Please see below a selection of Good for Kids recipes that meet the Fresh Tastes @ School NSW Healthy School Canteen Strategy.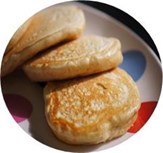 Hot foods:
Avocado & Tomato Jacket Potato
Snacks: