Fresh Tastes @ School - NSW Healthy School Canteen Strategy, as outlined in the Nutrition in Schools Policy, is a mandatory government endorsed approach to the types of foods and drinks that can and can't be sold in NSW public school canteens.
The strategy uses a Canteen Menu Planning Guide to categorise foods as 'GREEN', 'AMBER' and 'RED'. GREEN foods are the healthiest and should make up the majority of the menu. AMBER items can be sold, but should not dominate the menu. RED foods are not to be sold on more than two occasions per term and should not feature as regular menu items. 
In Term 1 2007 a sugar sweetened drink ban was introduced as an extension of the Fresh Tastes @ school NSW Healthy School canteen Strategy. All drinks previously categorised as red can no longer be sold in school canteens and vending machines.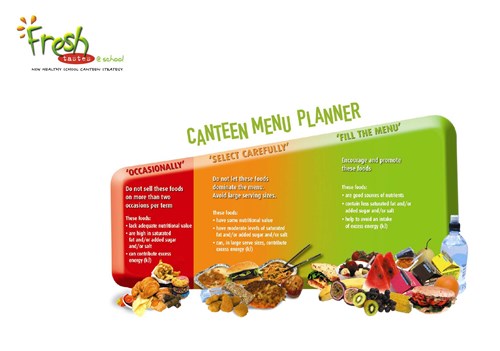 For further information and resources please refer to: