The Caring for Children resource has been updated and released.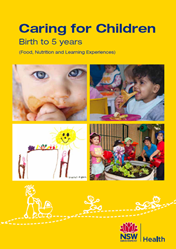 Quality Standard 2.2, Element 2.2.1 Healthy Eating is promoted and food and drinks provided by the service are nutritious and appropriate for  each child
The new edition of Caring for Children – Birth to 5 years (Food, Nutrition and Learning Experiences) has been released. This edition updates and combines the Caring for Infants and Caring for Children resources to provide practical information to meet the food and nutrition needs of children 0-5 years in care.
The resource provides information and advice consistent with the Infant Feeding Guidelines, Australian Dietary Guidelines and the Australian Guide to Healthy Eating on adequate nutrition for children aged from birth to 5 years including:
- breastfeeding
- introducing solid foods
- safe bottle feeding
- lunchbox ideas
- menu planning            
- food allergies and intolerances
- food safety and hygiene
- food groups and quantities
- reading food labels
- recipes and food learning experiences
All centre-based early childhood education and care services participating in the Munch & Move program will receive a copy of Caring for Children, please contact your local Support Officer.
Click here to download a copy of Caring for Children.